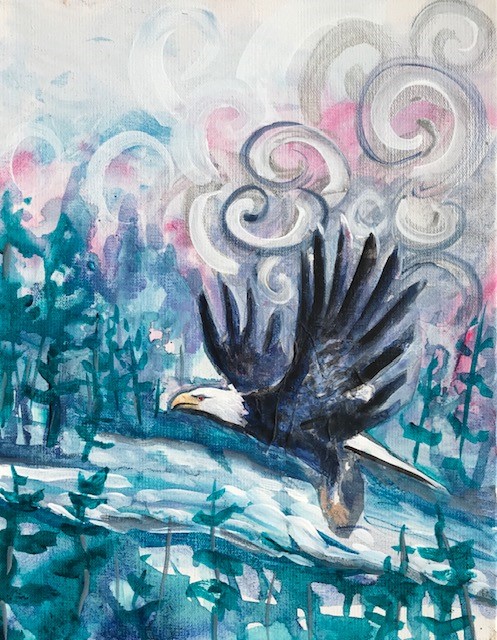 Are you drawn to particular animals?
Do certain animals consistently appear in your life? Some Indigenous traditions believe that we are connected with different animals that will accompany us through life, acting as our guides and guardian spirits, and offering power and wisdom to us when we 'communicate' with them. These animal guides come in and out of our lives at different times on our journey.
Joanne Dennis and Melissa Burgher are presenting a two-part art class: Discovering Your Spirit Animal. The first class focuses on identifying which animals you share traits with, and then creating a personal image using the photo-transfer method. The second part of the class students will be able to embellish these images with paint. This is going to be a meaningful and fun two days, set in the scenic town of Crescent
Beach.
During this Animal Painting Workshop you will:
Explore the world of spirit animals.
Discover the characteristics and meanings of the animals that guide you, and
Learn how to transfer images onto canvas and use painting collage techniques.
Whether you are a dabbler of art or an experienced artist interested in trying your hand at creating an acrylic painting, you will enjoy this class.
Location: Crescent Beach Popup Gallery @Beecher Place, 12160 Beecher Ave, Surrey
Date & Time: Apr 27th and 28th 3 – 5 pm
Cost: $60
(Supply kits will be available for purchase for $15, or you may bring your own supplies.)
Register: Send email to joanne@joannedennis.ca or call 778-227-7441.
Workshop Conductors:
Joanne Dennis – Artist, Facilitator, Coach (www.joannedennis.ca)
Joanne is an adult educator, continually increasing her skills in art coaching, techniques and processes, and builds art knowledge through literature, professional art courses, and experiential learning. She presents works at the Surrey Art Gallery, the Newton Cultural Centre and her work is on display at the Surrey and Langley Kia Dealerships.
Melissa Burgher – Artist (www.melissaburgher.com)
Melissa is an Internationally selling artist who paints in an array of different mediums and styles. She often incorporates Canadian animals in her paintings that symbolize strength. Melissa has worked in the Indigenous field for over 5 years and has been intertwined with the Indigenous culture her entire life. Many of her paintings draw on Indigenous stories and teachings while the style she uses is entirely her own.